SHREE MAHALAXMI KALA KENDRA PANVEL
Proprietor Mr. Nilesh J. Rasal
Shree Mahalaxmi Kala Kendra provides all types of fiber work, interior, Mural, Metal, Canvas painting And Electrical work in Panvel. We are here for our valuable customers, there needs and most of their satisfaction for there work and products. shree mahalaxmi kala kendra also customized all types of fiber statue work in Panvel Raigad Maharashtra.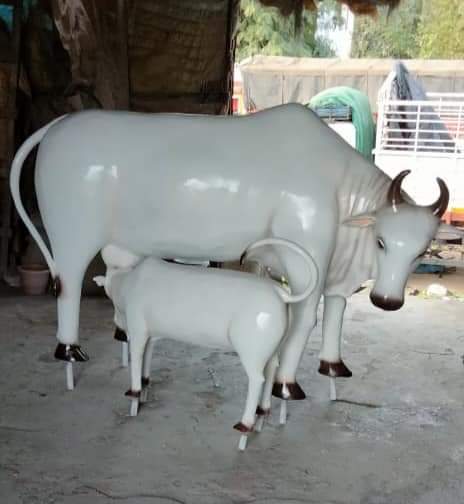 Welcome to Shree Mahalaxmi Kala Kendra , we are a group of highly passionate and creative artists with the clear intention to design something creative, which will be best ever we have created and will fulfil our customers needs as well. In this way we can showcase our passion and creativity to the world, and its our desire to form shree Mahalaxmi kala kendra . Art, follows the innovative and well proven strategy, when it's comes to implementation.
Start with the basic structuring, we maintain absolute and concrete binding and structuring process. Post confirmation of the clay work from customer, we prepare the mould.
After preparation of mould we start with fiber casting, brassing, and cleaning.
Once fiber casting and cleanning processes are done, we use primer to improve the longevity of colours.
Once we are done with primer, we start final painting and finish the product, and finally sent for customer approval.
This concrete strategic way of implementation helps us to deliver quality products to our customers.
Art is one of the most beautiful aspects of nature which has been enhancing our way of living through the ages. It is one of the many fields that portrays the tradition and culture of a particular race or prestigious institution.
We here at  Art take this aspect of art into consideration and have come up with innovative approaches of converting beautiful art forms into real life structures such as models, sculptures, and statues which can be kept as a decorating item to enhance the aesthetics of that particular space.
 Agenda –  SHREE MAHALAXMI KALA KENDRA PANVEL
We at , with our group of creative art workers, provide our customers with the world's best fiberglass statues and sculptures. We make sure that during the creation of art we fulfill all the needs and specifications presented by our customers in the most creative yet efficient way.
We have come up as the group at to showcase our true passion for art and design in the world. This way we can fulfill our passion and provide the customers with the most beautiful sculptures. We specialize in manufacturing and exporting fiberglass sculptures.